our couples are TRULY JUST THE best.
Below are some incredibly sweet words from our past couples.
.... I did a lot of research and SEG was affordable and had a lot of package options. They also provide you with their preferred vendor list, most of which gave discounts for SEG. It ended up saving us a lot of money. Our planner was Ashley Carpenter and I honestly don't know what I would have done without her. I know she is very busy but every time we spoke or met she made my wedding feel like a priority. She is friendly, organized and very detail oriented. She was quick to respond to emails and would periodically reach out to make sure I was on track with everything. She attended our tasting and meetings with vendors and asked questions we hadn't even thought of. On the day of the wedding she was calm and prepared. She made sure we followed the timeline and everything went smoothly. Her and her assistant did all the behind the scenes work and helped set up. My parents had nothing but great things to say about her and were so happy she was there so they could enjoy the day. She took so much stress off of our shoulders and we are so thankful we had her there throughout the entire planning process. The price is well worth it and I would highly recommend SEG and Ashley. Our wedding was SO perfect and I have Ashley to thank for that. - Katie G.
..... I'm Rashaud and my wife Kiengsom and I are somewhat control freaks in our everyday life so this wedding was no different. We already had much of what we wanted down to the point where we'd have weekly scripted rehearsals for the wedding party which included some teenagers and kids, so it was becoming a beautiful orchestra. The problem was that WE were the main attractions in the wedding so we couldn't run it the way we wanted, while being on the inside. Then comes Brianna who sits us down with her pen and notebook and just asks "What do you want me to do?" We needed her to be the conductor of our orchestra and almighty did this woman kick buttocks doing it! She was firm yet pleasant with guests, comforting and patient with the wedding party, and unbelievably respectful and caring for the Bride and Groom's needs…this is all pre and post wedding!!! Without a doubt, she is the personality that a couple NEEDS during this time because with weddings anything can go wrong. I couldn't be more in love with my wedding day due to her success. *standing ovation* - Rashaud I.
.... throughout our wedding planning process was to hire a Day-of Wedding Coordinator. Being a pretty decisive and organized person, I didn't need much help with planning our wedding, but as the big day approached there were SO many overwhelming details that I have never been so grateful for the decision to hire The Simply Elegant Group (Chicago location). I had the pleasure of working with Lindsay Mackey. From our initial meeting, it was clear she knew what she was doing - she was so friendly and knowledgable. About a month before our wedding (right when the craziness started setting in) she became very involved and helpful. We had a couple meetings (in person and phone) and she was super flexible to work around my schedule. We talked through all the details. Some very important things that I wouldn't have never thought of or remembered. The timeline and documents we created together left no detail untouched and was a great reference tool for myself and my vendors. On the wedding day, Lindsay and her assistants did so much behind the scenes work; answering calls, working with the vendors, directing guests, picking up and dropping off various items, setting up personal items for the ceremony and reception, and dealing with any mishaps that may have occurred (which I would have no clue if anything did go wrong!). Our wedding day went SO perfectly and smoothly. My husband, myself, and our parents truly enjoyed the day without a single worry or interruption, and I have Simply Elegant to thank for that! Do not plan your wedding without them! -Caitlin M.
.... working with Simply Elegant. From the first time talking with them on the phone, I felt at ease about our event. Both my husband and I were living out of state, so I wasn't able to see the space before booking. They were nice enough to answer any and all questions, and show me pictures of the space via e-mail to address any concerns we had. From advice about the decorations to table layouts to accommodate our large, family-style event, they were helpful, adaptable, and always sincerely joyful in there interactions with us. They were always willing to go the extra mile to ensure everything was set in place, even offering past experience and tips with how to interact with the caterers and set up the space to advice on who should sit where when. It was so helpful and reassuring to have there experience guiding us and there strategic innovation to incorporate all of our unique touches. They were the perfect event hostesses--in the background making everything run smoothly. At one point, I think I even caught them setting up an extra table for unanticipated guests--complete with linens! The space the day of was gorgeous. It was beautiful, retro/vintage, welcoming, and set up perfectly for our event. There wasn't a hitch to the night, and I can guarantee it was not because of my amazing planning skills (trust me, they were lacking), but rather because of the extreme care and consideration of Simply Elegant's planning and the excellence of there execution. Thank you for the time and love you put into our wedding. It was a perfect evening, and we sincerely enjoyed working with The Simply Elegant Team! - Amy H
.... and as our coordinator through out the whole wedding planning process. They were so detail oriented it was unbelievable! They thought of things that didn't even cross my mind. I had confidence in her from day 1 and really relied on there judgment and expertise. They did not let me down in the slightest. Always quick to respond in a professional and personable manner. They made me feel like I was there only client when I know that wasn't the case. There suggestions made our wedding the best day ever!! I cant say enough amazing things about Simply Elegant. My guests even commented on how well executed the wedding was and how everything went so smoothly. That is all because of their team. Not a single thing went wrong (at least that I was aware of) all day. While working with other coordinators during the process for various vendors I was told at one time, "Oh we don't get that detailed. It will be fine." They get "that detailed" with there work. They really set the highest bar for making sure things get done and are done right. When speaking with their team you can really tell that weddings are there passion. They care for there clients and will be there for you whenever you need them. They went out of there way multiple times to take the stress off of us and single-handedly made our wedding the most perfect day! Literally stress free! Thank you! Thank you! Thank you Simply Elegant!! :) -Amber E.
... and are so thankful to have worked with our planner Gina! We went with the day-of package and still felt that we still had amazing service many months before our actual wedding. We were able to use many of their great preferred vendors(caterer, florals/décor, transportation). All the vendors we went with were so happy we had a planner with SEG, which speaks to SEG's service, professionalism and reputation. Also, we ended up saving more money from the SEG's preferred vendor discounts than the actual cost to hire them - definitely a big reason we were able to afford having a wedding planner in the first place! Gina was fantastic and we are so thankful to have had her as our planner. We felt that our wedding day was absolutely amazing and all of our ideas/details were executed perfectly - and know that it wouldn't have gone so smoothly if we didn't have Gina to manage everything! Leading up to the wedding, Gina was there for us, checking in regularly, following up with vendors, and making sure our timeline was perfectly planned (really the timeline was followed perfectly on the day of!). We know there were some small bumps leading up to the day, and probably some the day of, but they were barely noticeable thanks to Gina. Specifically, several of our guests had to cancel last minute due to Hurricane Harvey - we were pretty stressed out about it, but Gina was there to help us plan for the changes and communicate with our caterer on our behalf. We had a lot of little details planned throughout our wedding day, and Gina was so attentive and made sure that all the decorations, details, and even dances were set out perfectly. All of her hard work making our vision come true really allowed us to focus on enjoying ourselves with our family and friends, and celebrating our wedding without worrying about any wedding day logistics. We really couldn't have imagined our wedding day happening without her and SEG! - Liezl B.
Want to meet the ladies that everyone is raving about?
.... they not only provide phenomenal vendors, they make sure they are within your budget and usually even below your estimation. Even more they go BEYOND the call of duty. The team at the Simply Elegant Group gets to know you and makes sure that the day you've been dreaming of since you were little is better than you could ever imagine. Planning any wedding is stressful but I ended up leaving my job and selling our house in 6 Weeks to move across the country to start my new job exactly 3 months before our wedding. Every guest was traveling to attend and we were going to have an out of the box reception with a "game theme" rather than a DJ or band. While I had everything laid out in my head... I didn't even know where to start putting it together let alone where to go for a reliable seamstress, cake, flowers, decorations etc in our new city. Lizzy made my unorthodox wedding a smash hit and even more... an absolute breeze. I highly recommend the Simply Elegant Group to every bride... no matter the size or type of wedding you're having, they are the best in the business. - Nicole C.
.... To be honest, I never envisioned hiring a wedding coordinator until I found that our venue required me to have one….. I could not be more grateful for this! Having a coordinator is a lot more help than I ever could have imagined (I will be recommending it to all of my friends and family getting married). Without Elisa I am sure there would have been many details missed, and a lot more stress on my wedding day. Elisa had a great questioning process and organizational tool to help me feel comfortable with the planning without being overwhelmed. Before the big day she contacted all of the vendors, and sent them appropriate schedules so everyone was on the same page. Then on the day of we did not have to worry about a single thing! I cannot thank her enough for her help! Anyone on the fence of getting a coordinator- DO IT! The cost is worth it, and in my case I was referred to vendors when I asked for advice and took part in some amazing discounts they have worked out for their mutual clients. -Ashley F.
.... Our day was absolutely magical. Everything moved along smoothly. Lindsay was available 2 days before the event to help with planning, and she helped tie up the loose ends and double-check we had all details adequately documented for our big day. On the day-of, Lindsay was extremely helpful in working with the various different vendors. All of them (photographer, videographer, DJ, catering manager) spoke very highly of Lindsay; the catering manager actually pulled me aside at the end of the night to share how awesome Lindsay was to work with. She understood our needs, and was willing to work with us extensively to make sure our vision was upheld. We are still in awe of how everything came together; our guests have shared that it was one of the best weddings they've been to! If you're considering "Simply Elegant Group" I would HIGHLY recommend their services. I would hire them again in a heartbeat! -Tyler S
... for our May 30 wedding at the Adler Planetarium (Day of Plus). They did an outstanding job!! Our planner was amazing and inspired total confidence in us from beginning to the end. My husband and I live in NY so planned our Chicago wedding long distance, and Simply Elegant is 1000% who made this possible. We were clear about certain things from the beginning—we wanted our wedding to be a casual, fun, intimate party, not overly formal. We got rid of formal seating for dinner so people would be up and mingling. However, with 170 guests, I was concerned about whether guests would know where to go, and whether the evening would still be elegant and comfortable without assigned seats. We also wanted to keep the mood fun, a real party, yet incorporate certain traditional events like toasts, first dance. I didn't think this would be the easiest wedding to execute well, but they nailed it—the flow was easy and seamless. All our planned elements went perfectly. They recommended many vendors to us, based on detailed conversations and our personalities. We were blown away by the DJ, decor, even photo booth they sent our way. They did not just recommend vendors they knew personally or had a relationship with. I feel they did a lot of research to find the exact vendors that best suited us. A word about decor—I gave them an idea of what I wanted with some Pinterest pics. However, I pretty much gave her free reign to work with our main vendor, AEG, on lighting, flowers, etc. They did the legwork, coordinating between AEG and other vendors to create the best set-up. They also stuck to the budget! Although I had total confidence in Simply Elegant, I was curious to see what it would look like since I had been so hands-off. When we walked into the reception, I teared up... the transformation was magic. They clearly communicated everything we asked for, but it was so above and beyond what we imagined. I couldn't believe how well they understood everything we wanted. Considering all the work their team did, with numerous calls and emails, to coordination of vendors (decor is just one example), the value for the Day of Plus package was incredible. Elisa gave us truly personalized attention from our first conversation 9 months before the wedding through the end, listening carefully to our preferences. We got so much more than just someone who took vendors' calls the day of the wedding. Even without vendor discounts, we would have considered Simply Elegant an amazing bargain. With the discounts we got, usually 10-15% off (even for vendors not on their publicized list), it's almost absurd. It was far and away the best money we spent on the wedding. As two lawyers with limited free time planning an out-of-town wedding, a planner was absolutely essential. I really felt they went to incredible lengths to execute exactly what we wanted. They put so much thought into how the whole evening would go, which is of course why it all felt effortless. My husband and I were actually able to enjoy every minute of our wedding— once it began we were never stressed and knew we were in good hands. All in all, I can't recommend Simply Elegant enough. We are so thrilled we worked with them!!" — Sarah K.
.... Specifically, my wedding planner was Lindsay, whom I LOVE!! I live in California and was planning my Minneapolis engagement party for December and Minneapolis Wedding in June . SEG allowed their resources, networks and knowledge to be available for me during both events, even though technically Lindsay was my wedding planner; she helped me plan certain aspects of my golf course engagement party, as well. She met with the venue coordinators after I chose my venues (for my engagement party and my wedding) and helped me make decisions that I would have otherwise had to fly into MN to make. I was able to send Lindsay pictures of the looks/ideas I wanted and she gave me suggestions on how to make it more personalized for our wedding. Then she would contact her networks/vendors and get me prices and quotes so I never had to. I only had to visit MSP 1 time in Spring to meet with Lindsay and look at/ pick out our centerpieces, table linen décor, ect. They were always available for any advice whether it was what I should be working on next, how to word invitations or helping me pick a package that best works for me with different vendors. They helped make an extremely overwhelming process very manageable. They kept me on track while I was long distance, in school and working. I really can't say enough great things about them. The day of my wedding, Lindsay ensured that everything was setup perfectly. She improvised when something went wrong and fixed it so that I never had to stress about anything. She ensured the vendors all worked together and kept the peace if there was any tension. She helped my day be as seamless as possible for my guests and me. I had a ton of comments from guests afterwards about how organized they felt our wedding was. From a Middle Eastern and Persian background, our guests feeling like things were organized was a huge compliment for us! They took the time to understand what our traditions were and helped us incorporate my Egyptian and my husband's Afghan traditions in our wedding ceremonies. Lindsay was very organized, knowledgeable and helpful. She definitely knows what she is doing. I can honestly say I wouldn't have changed anything about my wedding day and I know I have Simply Elegant to thank for so much of that. — Hend S.
.... I originally met with LIndsay and she did a great job of selling me on their services and what they could do for me, and boy did they deliver! My planner was Ashley and she was easy to get a hold of, whether by email or phone, and was always flexible and willing to help out. We were really impressed with how helpful she was with all the extra tasks I did not have time to take care of before the wedding. She came to our venue meetings and rehearsal and took all of the decor items and favors that I had painstakingly been working on and set everything up in the reception space exactly as I wanted. towards the end of the evening, Ashley and her assistant packed all of our stuff up while we were dancing away with our guests and even pulled up my parents' car and loaded everything in for them, my mom was so impressed and thankful that it wasn't something she had to worry about. Overall, I had a great experience with SEG and I felt we really got a lot of value for our money. I can't say how great it is to have peace of mind on and around your wedding day when you know that you have reliable people there who are willing to help and make sure everything is exactly as you want it to be! - Katie H.
.... and I am so extremely glad we had them on board. As an event planner myself, it was really important to me to have a true professional as a day-of coordinator who could take over and execute all of our carefully made plans on the day of the event and just let us fully enjoy our wedding and celebration. Our planner was such a rock star. She did a really great job running the show, and when she got on-site on the wedding day, I knew things were in good hands. She was totally on the ball the whole day and she handled every detail with aplomb. I felt entirely supported by their whole team. As icing on the cake, SEG's business model and fee structure is brilliant. With the discounts we received from preferred (and fantastic) vendors, I really feel like we made up the difference in what it cost to hire SEG as our day-of coordinator. That said, even if we had had no discounts at all, SEG as a whole offered a value above and beyond the fee, so all in all, it really felt like an amazing deal working with them. I would recommend SEG to any future bride! -Michaella H.
.... We were married in Larkspur, Colorado in September 2017 and opted to do the Day Of Plus package with Simply Elegant. From the get go, I felt so much excitement and support from Taylor, we talked on the phone then met in person. It was clear that she had a ton experience and she really helped me navigate all the ins and outs of finding caterers, florists, etc. Our Lead Planner was Sidney and she was incredible. She was so on top of everything, always came to the table with solutions and saw around corners that I didn't even know existed. She was always quick to respond via email and text and made me worry free leading up to the wedding. On the day, she did so much to go the extra mile - she coordinated all vendors, made everything look incredible, gave us a handmade card the morning of, helped my mom bustle my dress (which was way more complicated than we anticipated) and at dinner she made sure my food was delivered with a little teeth flosser on my plate (which was amazing). She also took tons of pictures on her phone of all the little details and sent them to me a few days after the wedding. I was dying to see how everything looked since I couldn't really spend that much time checking out all the details we spent months planning - so it was SO sweet and such a thoughtful touch. I'd highly recommend Simply Elegant Group for your wedding planning needs. And I can't say enough good things about Sidney - she was the best. - Jen M.
.... for our September 2016 wedding at the Rookery in downtown Chicago. Initially we worked with Lindsay, who helped answer all of our questions, and then we were assigned our planner, Gina. Gina was a true pleasure to work with, she was so organized, kept us on track with our vendors, helped us organize our ceremony and reception time-lines, and provided multiple vendor recommendations which all turned out great. A day before the wedding, Gina had an emergency and was not able to be at our wedding, but Simply Elegant made sure that everything went off without a hitch. Lindsay called us immediately to let us know the back-up plan, and then she attended our rehearsal while they flew in Kerry from the Minneapolis branch, who took over for Gina for the wedding day. My husband and I were not aware of any issues on the wedding day, which was a true testament to how organized and professional the Simply Elegant team are. Our main concern before booking a planner was having a proper/reliable back-up plan, because life happens, and we were so glad we went with Simply Elegant because of that. Even if there were any problems/hiccups, we were able to enjoy the day and not worry, and it all turned out better than we could have hoped! Thank you so much, Lindsay, Gina, Kerry and the entire team, you are rock stars!!! -Shawn J.
Ready to relax? Yeah, Even While you Plan Your WEdding!
.... was to hire a Day-of Wedding Coordinator. Being a pretty decisive and organized person, I didn't need much help with planning our wedding (May 21, 2016), but as the big day approached there were SO many overwhelming details that I have never been so grateful for the decision to hire The Simply Elegant Group (Chicago location). I had the pleasure of working with Lindsay Mackey. From our initial meeting, it was clear she knew what she was doing - she was so friendly and knowledgable. About a month before our wedding (right when the craziness started setting in) she became very involved and helpful. We had a couple meetings (in person and phone) and she was super flexible to work around my schedule. We talked through all the details. Some very important things that I wouldn't have never thought of or remembered. The timeline and documents we created together left no detail untouched and was a great reference tool for myself and my vendors. On the wedding day, Lindsay and her assistants did so much behind the scenes work; answering calls, working with the vendors, directing guests, picking up and dropping off various items, setting up personal items for the ceremony and reception, and dealing with any mishaps that may have occurred (which I would have no clue if anything did go wrong!). Our wedding day went SO perfectly and smoothly. My husband, myself, and our parents truly enjoyed the day without a single worry or interruption, and I have Simply Elegant to thank for that! Do not plan your wedding without them! - Caitlin M.
.... We worked with Jamie and she was so helpful and understanding. She really made everything go smoothly. Jamie is organized, professional, and a joy to work with. It's a rare thing to find someone who can help you make your dream a reality, and Jamie is one of those people. From day one she was on the ball. She answered emails within 10 hours and went the extra mile to make sure all my vendors were ready to go the day of the reception. She also has a great sense of humor, which really comes in handy! I also appreciated that she came to the wedding rehearsal. This way she got to meet everyone and get a sense of the ceremony. She made sure to introduce herself and speak with everyone individually so they could feel comfortable going to her if they had a question. In addition to Jamie, we also worked with Holly. She was super helpful as well. At one point I had a near meltdown because of a technical mistake that was my fault -- Holly and Jamie were there to fix the problem and talk me off the ledge. It was a close call -- thank goodness they were there! At first I wasn't sure if we needed a day-of coordinator. My husband and I are both organized people and used to hosting events for large groups. But I am so glad we hired Jamie. It would have been impossible to get everything done on time and the way we wanted without her. We had 135 guests and did a lot of the decorations ourselves. With Jamie there we could rest assured that all would go smoothly and that we could concentrate on speaking with our family and friends, rather than figuring out how to get checks to musicians, when do do the bouquet toss, etc. If you are in need of a coordinator, definitely go with Jamie! -Colleen L.
.... From start to finish it was an amazing experience. We were lucky enough to work with two planners over the course of our planning process, Sidney and Taylor. I would recommend each of them without a doubt. Initially I wasn't so sure about hiring a coordinator since I have experience with events myself, but it was such a relief to have their help and guidance throughout. From the wedding checklist they provide, to help with vendor recommendations within your price range, to day of execution. It was worth every dollar spent, especially since they helped us save money along the way. Since we didn't live locally, it was also so nice to have their help with all the last minute finalizations. Sam even offered to reach out to groomsmen who were dragging their feet on getting the right shoes, belt, etc. It was very sweet of her! They are truly there to do what needs to be done and make your wedding day run as smoothly as possible. I felt 100% confident putting the reception venue in their hands to help decorate, not to mention how wonderful they were to still be there at the end of the night to break down once everyone had gone home. I felt like they went above and beyond. With the help of the SEG our wedding day was as magical and perfect as we'd imagined it would be plus some. Thank you SEG and to everyone out there looking, wondering, needing a coordinator, whether it's day of or the entire package, you will not be disappointed with The Simply Elegant Group! xoxo - Laura A.
..... since we are both in the hotel industry with years of experience planning events. BUT we are so grateful we did because what we just love the most looking back at our wedding from July was our ability to have actually enjoyed the day down to our details with our friends and family - all thanks to the Simply Elegant Group and my planner Ali! We signed up for the day of planning and we felt like we got so much more. Ali was amazing from our very first meeting - she really understood our vision and helped me execute it to the very last detail. I have to say our wedding was Epic - and I couldn't have done it without SEG and Ali and her team! If you think you can do it on your own, you won't enjoy your day - they are amazing, affordable and they do save you money with their preferred vendors! Thank you Ali and SEG!! -Karen H.
.... on here and boy! We are so glad we did as we would of never got to meet the fabulous Elisa! We live in Scotland and got married in Chicago, because I am quite crafty and creative I really wanted to have a massive input to our wedding but felt I need someone to give me the nod of approval when I found something fun, pretty and fabulous and to make sure the vendors we were looking at were right for us. Elisa played a massive part in this and even made it fun for my now husband Dean :) We all got on great and me with wanting to be crazy organized all the time it really worked as Elisa has organisation skill I have never seen before! She found so many amazing vendors for us and helped us save money. She really was a dream come true! The day of the wedding was actually unbelievable... it went better than we could've ever expected and everything went to plan, we actually didn't feel like we were at our own wedding because we were so relaxed and were having so much fun. She knows A LOT of people and vendors so was brilliant when needed advice, she's also super fun and easy to get on with. As a bride I have to say I loved every second of the planning and was so sad for it to come to an end. It was definitely a stress free time and even when little issues came up with vendors she sorted them for us very quickly! She really is an unbelievable wedding planner and an asset to Simply Elegant Group. -Stefania D.
... but Lindsay exceeded all expectations! She provided a list of potential vendors for each category, and then my daughter and her fiance could make the choice. It was very reassuring to be able to turn to a wedding professional for answers to the multitude of questions that arose at every phase of the planning process. Lindsay answered ours with patience, enthusiasm, and a fun sense of humor. She is delightful! On the "day of" both Lindsay and Sonya were organized and professional. I truly felt comfortable that all was under control and could focus on the guests and wedding couple. At the end of the evening, Lindsay had everything we needed to load into our car organized in one location. Displays were disassembled, leftover cake boxed, extra programs gathered, etc. My husband and I were most impressed! Our heartfelt thanks go to The Simply Elegant Group. You helped make our daughter and son-in-law's wedding both spectacular and memorable! -Linda M.
.... After speaking with many planners for day of coordination, we settled on The Simply Elegant Group because they offered much more comprehensive planning services for the cost, and seemed to fit our personalities. Our situation was a little unconventional in that we started out with Gina, but ended up working with Taylor due to Gina taking an unexpected medical leave. From the moment we signed on Gina went to work helping us secure the remaining vendors we needed. Just through Gina's vendor recommendations, she saved us more than the fee we paid for The Simply Elegant Group's services. Not to mention, the vendors she recommended were absolutely amazing. A few months before our wedding, we were informed that Gina would be taking a leave and wouldn't be able to continue as our planner. After a minor heart attack, we were introduced to Taylor, who would be taking over. I immediately felt at ease with the new arrangements as Taylor took the time to become familiar with our existing plans and went to work to complete the timeline and coordinate with our vendors right away. She expertly planned the timeline, ensured everyone knew what to do and managed my minor meltdown like the true pro she is. Our day was perfect, and Taylor played a major part in that. I literally just had to show up and get married, which is why you hire a planner, right? I couldn't be happier with our experience with The Simply Elegant Group and HIGHLY recommend their services for a flawless day! Thank you! - Lia O
.... However, after our first meeting with Simply Elegant Group we knew we needed their help on our wedding day. They really take an interest in you as a couple and what your specific needs are. We found them to be extremely helpful with remembering the many details, organizing the vendors, and making a timeline for our wedding day so we could enjoy every moment! Kerry was our lead planner and she is AMAZING! She is very calm, sweet, detail oriented, and responsive. Christine worked with her on our wedding day and she is a sweetheart as well along with being so organized! Highly recommend! Big thanks from the Rogers- June! -Kelly R.
.
I chose all my vendors based on the connection I had with them and how comfortable they made me feel. SEG, had and did everything I wanted! We had the full service package due to planning out of state. I had constant communication and follow ups for every detail. Whatever I needed, they were there to accommodate and execute. They were there with me every step of the way, remotely and in person for all the planning. Even when I had my moments of stress and anxiety, they were there to help and be my calm to my own storm. Especially on the day of, as the bride, you don't want to think or worry about anything. SEG took care of everything for us, from guests to vendors, to putting all wedding materials in place and taking them down at the end of the night. Our planner, Lindsay, was my SUPER ROCKSTAR! All her hard work and dedication made our day more special and the most epic day ever. Lindsay made the entire planning process fun and less stressful. Couldn't have planned a better wedding without her. BEST PLANNER EVER!!!! -Tiffany L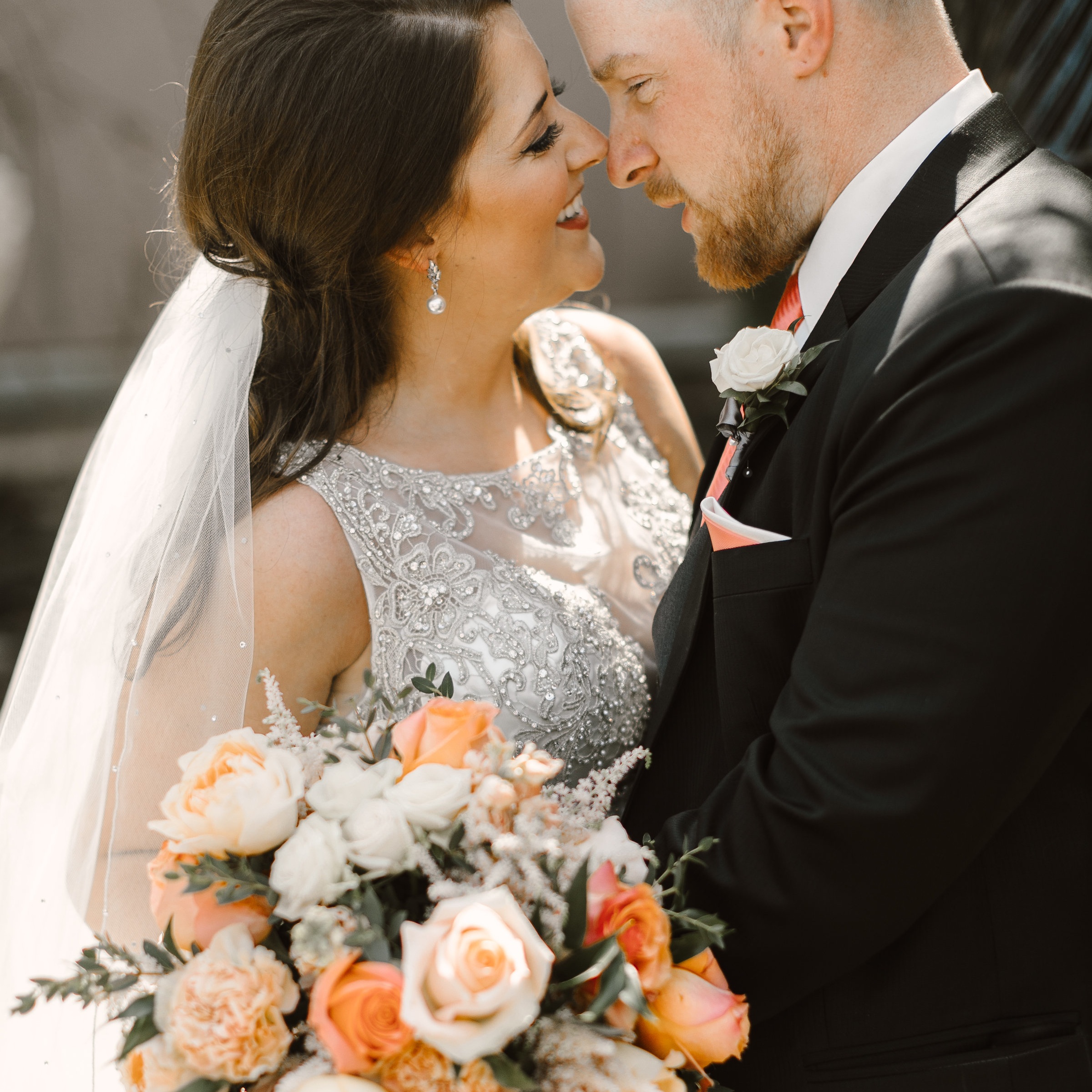 Want to see more kind words from our couples?
There are hundreds, yes hundreds, on The Knot. Go check them out!